FREQUENTLY ASKED QUESTIONS
WHEN IS THE KIDS ACTING CAMP & WHAT ARE THE AGES ACCEPTED?
JUNE 19-23, 2019 is the LA KIDS ACTING CAMP in Downtown Columbus, OHIO. ALL kids ages from 6-19 are eligible. NO EXPERIENCE is NECESSARY, Why? Because this is a training or educational camp, so it's for ALL LEVELS. We will have 4 classes of only 10 kids max. in each class and it's divided up by age! We believe in VERY small classes for more individual attention unlike most camps. It is a DAY camp, meaning you will drop your kids off at 9am and pick up at 3:30pm on the first 3 days. Saturday is ALL day and into the evening and Sunday is the Showcase from 11am to 1pm. For full schedule, see LIFE AT CAMP hyperlink.
LUNCH?
Parents are responsible for lunch for their own child. We find with all the allergies today with nuts and what not, that it's easier for you to bring them lunch or pack them lunches. There are plenty of places close by to the camp on WED-FRI.
ARE HEADSHOTS AND RESUMES NECESSARY TO HAVE AT CAMP?
Headshots and resumes are required. You will need 25 color headshots and they MUST BE 8x10 and include your name on them. There are no exceptions. If you do not have headshots or want to update for camp, you may schedule a shoot with the Director of the Camp, Greg James, who is a working photographer for 20 years who specializes in ACTORS headshots and has shot many celebrities as well as famous child actors. (see below) Greg will be shooting headshots for kids for more than a whole week before the camp to shoot from June 10 to 20 and also during the camp while you are here. Cost is $295. What that includes is over 200 images taken, 2 retouched final images and THE PRICE INCLUDES 25 PHOTOS WITH NAME ON THEM so you will be prepared professionally for agents/managers/casting directors at the camp! You can view a few of Greg's shots below and more at his website: GregJamesPhoto.com
IS THIS YOUR FIRST KIDS ACTING CAMP No. This is our 6th year and it has been very successful based on the feedback from the parents and kids. Many parents have given us feedback of how much their kids have grown since they came to camp. Our focus is on training your kids and educating them with some of the best teachers we feel L.A has to offer for kids. Feedback from parents can be seen on our testimonial page . Just call or email.
CAN THE PARENTS GO PLAY WHEN THE KIDS ARE IN CAMP?
ABSOLUTELY. We recommend the parents go take in the sights of COLUMBUS while your kids are in camp. It is YOUR time off also, so why not enjoy it? We will have chaperones and the building is secure to make sure your child is well taken care of. We have great local moms to help you with things to do and see.
WHAT HOTEL DO YOU SUGGEST?
REMEMBER we will be downtown Columbus the whole time. Location to be given out after sign up.
HOTELS: There are so many good hotels around the location we are at. We recommend that you stay where you can afford. Columbus has many affordable options. WE ARE HERE TO HELP! Just email and ask us once you are signed up! We are family!
If you want more of a house with cooking stove....I strongly recommend that you look at www.Airbnb.com. This site is where people rent their home out for you and the price is usually reasonable.
WHAT ARE THE AGES ALLOWED TO REGISTER?
From ages 6 to 19.This year we have 4 groups of 10 kids. Yes, smallest classes mean more attention and classes this small are unheard of. They will be divided up into 4 groups by age.
DOES MY CHILD HAVE TO HAVE ALOT EXPERIENCE TO BE A PART OF THIS?
Our only requirement is that your child has had a little experience in acting class, performing of some sort and/or auditioning at least or has the personality, which is important. Remember, this is an educational camp so all levels are welcome. There are some kids out there who may have natural ability and perform better than others who have been trained improperly. We never know where you are coming from and the bottom line is that these are all kids or young adults that our Pro Los Angeles teachers will bring to the highest level possible during the camp. We are proud to have kids coming back to camp who already have agents!! They just loved the camp so much and we are very proud of that!!
SHOWCASE: WILL I GET TO SEE MY CHILD PERFORM? WILL AGENTS GIVE FEEDBACK OR CALLBACKS?
Watching the showcase is an optional special offer we have this year. Some parents don't want to watch and if you do it's $50 additional that includes up to 1 parent/guardian to watch the showcase LIVE on a monitor in a room next to the showcase at the mansion. We also will include a copy of your childs scene that we will email you if you request. The $50 goes towards the taping of the scenes, editing, AV expert on site, food in the parent viewing party on the big screen in a room next to the showcase. Some parents don't need to watch and that is fine. We have a separate place for you to relax and just wait with no viewing. NO PARENT will be in the same room when the kids are in the showcase for the agents/managers and this is the next best thing, watching LIVE on a monitor. We don't do callbacks but we have a meet and greet with the agents for the kids they are interested in. We do our job by just having the best training possible. The agents will request to meet and talk to some kids and parents afterwards. Otherwise, they are going to take your info to get in touch DIRECTLY with the parents. Please understand that the agents/managers can be in touch with you at a later time also, but not to expect anything that day and consider it a bonus if they want to speak to you. Just because your child attends the camp, does NOT mean or guarantee that they will get an LA agent/manager! We can't stress that enough!! Although amazingly over half the kids got representation interest last summer, through our showcase, we do NOT guarantee representation, so please have the conversation with your child about this before signing up. We can only prepare and train your child the best we know how with the top professional teachers. Please remember the showcase is a bonus and the camp is packed with the top training and L.A pros to help your children grow as actors and your child growing and having a great time is the intention of the camp. REMEMBER, this is a JOURNEY!!
WHY IS THIS CAMP GOOD FOR MY CHILD?
Many reasons. First off, the teachers are as good as it gets from Los Angeles for training and they are working with your kids "hands on". They are top Casting Directors or working as an acting coach on major shows such as "Suite Life of Zach and Cody". This alone is more than worth the price of camp and the training is what we focus on. Casting Directors are seeing kids from all over the continent now, so the competition is stronger and proper training is essential. Our Motto is "You can only work at the top if you work with the best of the best". The bonus is the agent/manager showcase, which is a chance of a lifetime for any young performer. If your child has alot of potential and you think they are ready for more auditions than in their local market, then it's a "no-brainer" to connect with the top Los Angeles agents and try to build a working RELATIONSHIP by attending this camp. Remember, the showcase is NOT the goal of the camp! The goal is for your kids to work hard with the top in the biz and gain training experience. The showcase is just an added bonus. The camp does NOT do callbacks and it is up to the agents to meet with who they feel interested in immediately after the camp. The parents role is very key also in maintaining the relationships. No need to sell your house and move to L.A. Times are a changing and we are helping you keep up & tape from home!
From a financial standpoint, this camp is more than reasonably priced to fit your budget. There are all kinds of summer camps you can have your kid go to, but if you want to try to go to Los Angeles and be a part of a camp, then good luck. You would spend between $2500 and $10,000 JUST for the camp alone! We are no where near that!! Then they will charge you an expensive parent fee.... Airfare, car, gas, food, lodging.....etc. This would financially drain the average family. No need to go to Los Angeles. Those high figures for other camps do NOT include this high caliber of mega agents and managers showcase with top industry players for young adults that they may or not have at the end of camp. We are bringing you the best. We have heard many stories of parents who have spent many THOUSANDS of dollars and their child still doesn't know how to audition well or have an agent. Having the best of the best coming from Los Angeles to work with your child and prepare them to perform their best, is by far a tremendous advantage. Much better than when I hear people saying they are going to L.A for a week and meet with agents? Why? You may get to do a monologue, which I feel bores most of them while they are in their office too busy to really pay attention to you. So, think about this...when agents and managers are out of Los Angeles and having a good time in Columbus, do you think they are more relaxed and focused on the talent they are seeing in a glorious city where THEY can feel like they are on vacation? Make sense now? Having an intimate group of only 40 divided into 4 groups of 10, is another major plus factor, where your kid is not just another number like most or not all the others out there.
CAN YOU BREAK UP MY PAYMENT? ARE THERE REFUNDS?
Just 2 payments. FIRST and LAST. There are no refunds after downpayment of $650. No exceptions. We are only allowing 40 (4 classes of 10 max) kids in the camp and if we give you a refund, then we cannot afford to hold the camp. This will sell out fast and we recommend you sign up asap IF you know for sure you are coming. We take credit cards, Checks and paypal. Call or email to ask questions or make your payment on our Sign-Up page. You may mail us a check for the whole amount if you don't want to make payments, just contact us.
LAkidsActingCamp@gmail.com
(310)993-4041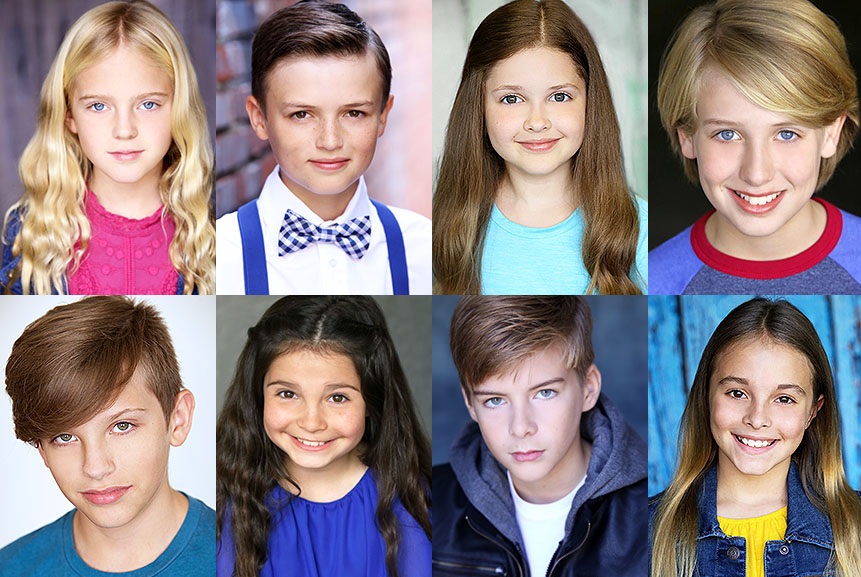 Pro Headshots by Greg James
GregJamesPhoto.com
Shooting professionally for kids and adults in L.A for over 20 years.